This type of insurance supplements, or helps fill the gaps, in Original Medicare. Since Medicare wasn't created to cover all health care expenses, you can purchase a Medicare Supplement plan in addition to Original Medicare.
How Medicare Supplement insurance works
When you have a Medicare Supplement insurance policy, it works hand-in-hand with Medicare. A Medicare Supplement plan will help cover the cost share not covered by Medicare and pays many of these costs for you.
Depending on the plan chosen, Medicare Supplement plans:
Provide first day coverage for inpatient, outpatient, and medical services (once the Medicare Part A or Part B deductible has been met).
Pay for many health care costs that Original Medicare requires you to pay (e.g. coinsurance, copayments, and deductibles).
Provide optional coverage available through a private insurer.
In addition, several Medicare supplement plans have a lower premium in exchange for out-of-pocket cost sharing on inpatient and medical services before the plan will pay benefits. The amount and type of cost share depends on the specific plan chosen.
If you choose a Medicare Supplement Select plan, you must use in-network hospitals to be covered for Part A or Part B services. Medicare Supplement Select plans do not restrict you from using any physician that accepts Medicare.
How do I qualify for a Medicare Supplement plan?

You must have Medicare Parts A and B.
You must be a Florida resident.

How do I use my plan?

When you use providers who accept Medicare, you will not have to file your own claims. Just take your Red, White & Blue Medicare Card and your Medicare Supplement plan ID card to your physician or hospital and you will pay the appropriate copay or coinsurance for your plan. There are no claim forms to fill out, claims are submitted by your physician or hospital directly to Medicare, and then automatically crossed over to your Medicare Supplement plan. You will receive Medicare Summary Notices from Medicare and from your Medicare Supplement plan.

What is Automatic "Recurring" Payment Option and how do I sign up?

An automatic "recurring" payment is an automatic withdrawal of your monthly premium payment from a checking or saving account (debit and credit cards are not accepted). If you are enrolled in a Medicare supplement plan, you can set up automatic payments by completing the Automatic Payment Option (APO) form and mailing it back to us.

Click here to access an Automatic Payment Option (APO) form.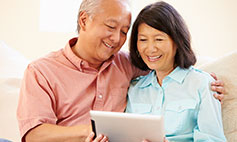 Find a Blue Medicare Supplement Plan
---
Save more with the Blue365® Member Discount Program
This exclusive Florida Blue member discount program1 helps you stretch your dollars with savings on health-related products and services that complement your health care choices.
Products and services include:
Hearing aid and care discounts
Discounts on frames, eyeglass lenses and contact lenses, as well as some discounts for routine exams
Laser vision correction service discounts (services include a discounted fee for traditional and custom LASIK)
Discounts on weight management support services
---
---